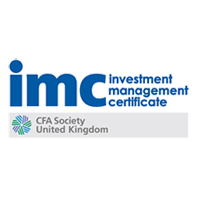 The Investment Management Certificate [IMC] is ideal for the recent graduate who wants to break into the UK investment industry. It is also useful for the career changer because possession of the IMC demonstrates to the recruiters of the City of London that you want a career in finance. It is the benchmark entry-level qualification into the UK investment profession.

It delivers the threshold competency knowledge required by professionals involved in portfolio management, research analysis, and other front office investment activities. The subject matter covers the key content areas appropriate for these roles including economics, accounting, investment practice, regulation, and ethics.
The IMC fulfils the UK regulator's [Financial Conduct Authority] 'appropriate qualification for managing investments'.
As with our US courses, we provide a tailored approach to the students learning and revision needs. Please contact us for a quote. Our fees are in line in Industry averages.


Please refer to CFAUK's website for detailed information.
https://www.cfauk.org/study/imc#gsc.tab=0
Disclaimer: CFAUK does NOT endorse ANY educational provider.